Services needed:
Content/Data Migration
Design
Engineering
Ongoing Support
Mobile Friendly
Strategy
Social Media Management
Business Listings Management
With 1,300 parking spaces, attached with numerous shops, restaurants and live event establishments and an estimated volume of 1K+ transient parkers monthly, Harbor Park Garage (HPG) is one of the most accessible and big parking facilities in the Inner Harbor neighborhood of Baltimore.
The parking facility is in the middle of the action, close to Downtown Baltimore and near live show venues such as Ram's Head Live, Soundstage and Pier Six Pavilion. It is also close to a lot of kid friendly venues such as Port Discovery Children's Museum, Baltimore Historic Ships and Baltimore's Light City Festival. The challenge was Harbor Park Garage was having difficulties getting their SEO work off the ground, needing guidance on where to start, implementation and engineering challenges and measuring success.
The rebuilt website and various design and user flows showcase stunning visuals, more effectively telling stories about the garage. An SEO campaign was built to revolve around the community, highlighting goings-on and showcasing local performance artists and writing talent.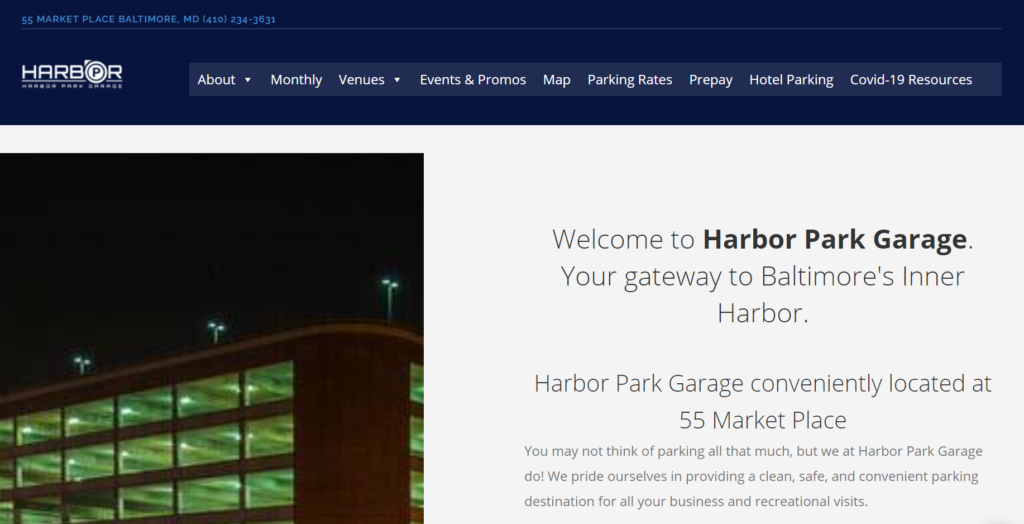 User Experience Focus
GPS used existing and new research to make it easier to build the information architecture for user navigation and interact with the site across mobile, tablet and desktop. Looking at gathered web analytics data, we mapped what the user journey was and made changes to the site and make sure to funnel visitors in quickly find what they are looking for in terms of parking rates, driving directions and on HPG's online magazine, Events and Promos.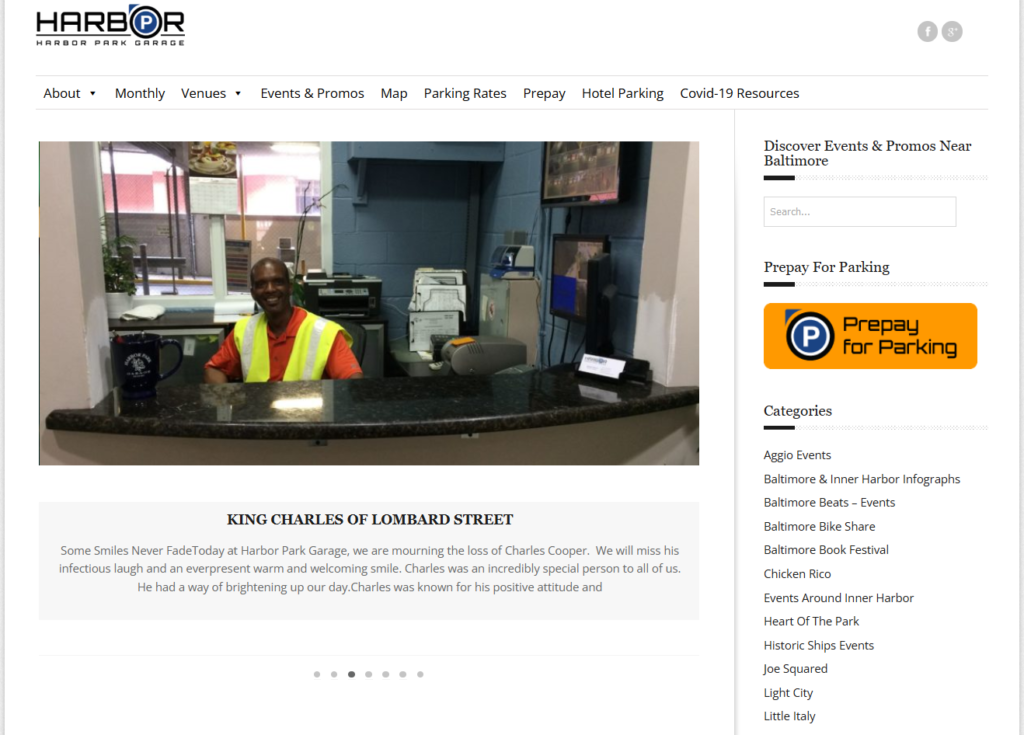 GPS worked with HPG to lead it through a design experience in efficiently funneling users through the main CTA, which is to transact and reserve parking online. All of this was built on top of a new CMS, pushing out all existing pages from a static update process to a new one under WordPress. This made it efficient for the HPG team to update site templates, design new pages and posts as well as make it easier to test user flows on the fly, bringing in efficiencies to life.
Content for the User and efficient SEO
At GPS, delivering a great user experience includes a superior editorial experience for writing, content planning, and page creation.
With our visual design guidelines, we planned and crafted articles and content, based around an evergreen taxonomy of keywords that will drive users interested in what we are offering. Then we paired that up with optimizing for our communities on Facebook and Google and Bing Business Listings, making sure that consumers we are targeting are able to find and reach us across the most important platforms they care about. The results were exhilarating:
25% more engagement on our Facebook page.
12% more engagement on average across our Google and Bing Business Listings.
HPG starting dominating on targeting taxonomies for parking that within 4 months, it was ranking between 1 to 5 for these keywords, bringing in an increase of 70% traffic to the website year-over-year.
An increase of 95% regarding monthly parking pass inquiries.
Ongoing Success
HPG will continue to be a partner with GPS Parking, as we continue to work with them in unlocking new transaction growth avenues by identifying new consumers interested in parking in and around the garage.
Interested in working with GPS Parking? Get in touch with us!